"IF WHAT IN THIS PHOTO IS YOUR GOAL!! PLEASE READ THE REST"
INTRODUCTION:
Since my professor asked the class to do the second assignments and to be a creative, I thought of something that I really want to share with people, thing that will benefit us. I was looking through Google, and I found an interesting article in New York Times, that gets my attention which talked about Steroids. At the beginning of the article I thought the writer exaggerated about the topic; however, when I done my research, I realized it is a huge issue that most people they might know it but ignored it.
STEROID AND THE HEALTH CONSEQUENCES BEHIND IT:
In your heart of hearts, you know steroid abuse can't be good. And your heart is telling you the truth. Even when used to treat medical conditions, anabolic steroids have all kinds of common side effects and it's not only that, it might kill you at a young age. Let's first watch this video about what steroids really do to us.
HOW A STEROID HORMONE WORKS?  
Steroid hormones work by stimulation of receptor molecules in muscle cells, which activate specific genes to produce proteins (see Figure 1.1). They also affect the activation rate of enzyme systems involved in protein metabolism, thus enhancing protein synthesis and inhibiting protein degradation (called an anti-catabolic effect).
Fig 1.1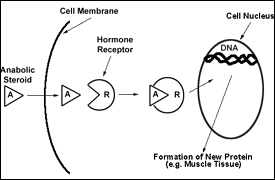 ARE STEROIDS ILLEGAL? 
Yes. Without a doctor's prescription for a medical condition, it's against the law to possess, sell, or distribute anabolic steroids. Under federal law, first-time simple possession of anabolic steroids carries a maximum penalty of one year in prison and a $1,000 fine. For first-offense trafficking in steroids, the maximum penalty is five years in prison and a fine of $250,000. Second offenses double this penalty. In addition to federal penalties, state laws also prohibit illegal anabolic steroid use.
LAST AND NOT LEAST,
I hope I highlighted a very important topic that people are not taking seriously and I hope you get educated through that. Just keep in mind, "Your health is your decision", do not destroy it by a not educated thoughts.
STAY HAPPY!! STAY HEALTHY!!
Best,
---
WHY PEOPLE DRINK COFFEE EVERYDAY?! 
Saturday morning, I was sitting at Starbucks and I ordered a black coffee with a muffin. While I was sitting I watched people who came in and out, most of people I watched had the same order which is a coffee. That guide me to ask myself, why do we drink coffee everyday?!
There really can't be any adult in this great big world that has never tried coffee. It's consumed everywhere, and judging by the amount of Starbucks locations in the United States alone. "we love coffee!"
The question that should be asked here is, Is coffee makes you feel happier?!  
A study done by the National Institute of Health found that those who drink four or more cups of coffee were about 10 percent less likely to be depressed than those who had never touched the java. And apparently it's not because of the "caffeine high" — Coke can also give you a caffeine high, but it's linked to depression. Study author, Honglei Chen, MD, PhD, told Prevention.com that the proposed reason coffee makes you feel good is because of those trusty antioxidants.
There you go 5 reasons why should we drink coffee daily:
Antioxidants: Coffee contains many antioxidants which purify the body and make one feel fresh.
Good for the liver: Coffee is very good for the liver, especially for people who drink alcohol.
Stress-buster: People who drink coffee daily say that even the smell of coffee can relieve them from stress and tension.
Reduces the risk of cancer: Coffee helps reduce the risk of cancer – be it skin or prostrate. Of course there are no proven guarantees, but no harm in having a cup everyday no!!
Diabetes and Parkinson's disease: Coffee is also known to reduce the risks of diabetes and that of Parkinson's disease in a human being.
From my personal experience, I can say coffee has been a part of my day, or maybe more. It gives me the energy of the day that I want and also it helps me to concentrate more on my classes. Having a cup of coffee early in the morning is the magic key of having a happy morning plus a happy day.