I cannot believe how fast the semester is finishing up:
Over the semester, I learned how to make gifs using Photoshop and imgur.com. where I made a few gifs. I learned how to make memes using photoshop and learned that Helvetica is a great font.
In class, we learned how to make multi-faced portraits. This portrait of Alfonsina Storni is one of my favorite posts, it was cool/challenging to edit the layers.
One of the posts I had difficulty with was the week we focused on the Vaporwave aesthetic. I think my end result was too cluttered, but I do like the Vaporwave art style. I think my grade for this course would be a B-or an A- because I missed one week's post and was late on two posts. Learning Photoshop helped me start a project that would not have started without taking this class. It is so exciting, I started an Instagram page called @broadcityeverywhere. It's a page that has Abbi & Ilana in different landscapes and I'm starting with Pride and Prejudice landscapes.
The image above took a minute because I edited the duo from the original background. You can see the original on the latest post over on my website.
Also this semester, I liked editing vintage travel posters of Peru and Venice.
This poster makes me want to travel in Italy thinking about how it is the home to thousands of rounds of parm >>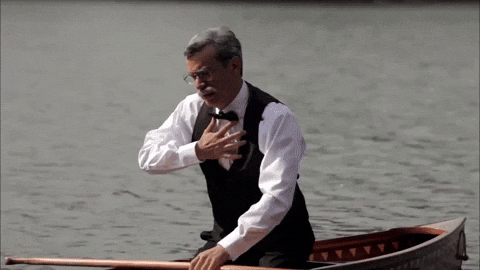 As for my website riverakatherine.com, I will keep it up and update it with some of the posts from the Broad City and Pride and Prejudice page. Thank you, Professor Ryan, and fellow CT101 classmates for making this course fun! 🙂