I love basketball. Basketball makes me happy. I love playing basketball and I love watching games every night. I've first touched a basketball when I was four years old. Ever since then I knew that was my sport.
The first basketball player I was exposed to was Allen Iverson. I practiced to play the way he played. I dressed like him I even had braids. Watching him play made me happy. I even had his jerseys. I own a pair of his sneakers right now. Here is one of my favorite Iverson moments.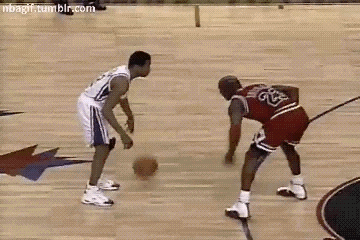 Since I was young, Iverson wasn't the only player I was watching. The only other player I loved to watch was Kobe Bryant. Kobe's career is coming to an end he's played 20 seasons with the Los Angeles Lakers and is retiring at the end of the 2016-2017 season. I also had his jersey and stuck around through the 3-peat 2000/2001/2002 championship years, the tough years after Shaq left, and the back-to-back years 2009 and 2010. Even though now the team isn't doing good at all I can't switch.
He's got accolades that I believe won't be touched in many years. He's second in points scored in one game (81), third in career all-time points, passing Michael Jordan (and still counting), he is the only player in NBA history with more than 30,000 points, 6,000 assists and 6,000 rebounds, and many more. He is arguably the greatest Laker ever, and Top 5 NBA players of all time. Here's one of my favorite Kobe moments.
Basketball makes me happy.