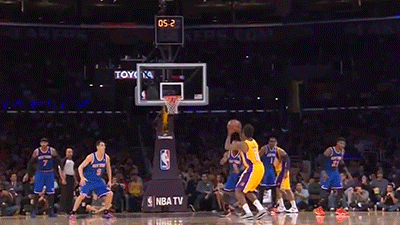 One project that caught my attention while browsing through the DS106 assignment repository was this pixel assignment http://assignments.ds106.us/assignments/celebrating-too-early/ . This assignment is an animated gif, which is referring to a NBA player who celebrated to early before his shot went in. We all have celebrated too early thinking we have completed a task when we haven't. On the other hand, animated gifs have always caught my attention because they are attention    grabbing.
Here's an another project that caught my attention. I'm turn into a excited kid when I see animated NBA gifs because some of the gifs I remember vividly so it takes me to back to my child. But this gif here is one my favorite players. NBA gifs are giving me inspiration to try and create some of my own so I relive some of those moments.   
I didn't know if I'll be interested in gifs, until I started to search up specific gifs that I love. But, in order to learn how to create my own I'll have to begin to study the basics of how to create a gif. As far as how many of these gifs I want to complete I don't know but I do want to create some. On the other hand, I think these skills are important because an animated gif can bring life to a regular picture because of the movement.