When I signed up for the CT101 class I had no idea what to expect…. I was just excited to take a new and what I hoped would be an interesting class! I was most definitely not dissapointed, I came out of this class learning so many different things, from learning how to use photoshop, to learning a  cool way on how to use the panaromic feature on my iphone camera, calling it panoramic storytelling. I did not know technology could be this interesting and fun.  As the semester came to an end, I am very sad this class came to an end, as I always looked forward to attending and learning new things!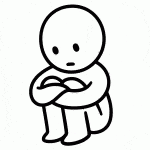 However,  I am beyond thankful to professor Ryan for enhancing our knowledge of computer technology, for helping us every step of the way, and having nothing but kindness and patience.
I like to believe I deserve an A in this class because I honestly tried my best to keep up with everything, I will say there were a lot of challenges regarding the process that one had to undergo in order to create a final product such as a vaporwave or an animated portrait, and even then I was hardly ever satisfied with my final product. However,  I honestly think I tried my best to comprehend and demonstrate my learning in my posts. This class was somehow a stress reliever for me considering I took 6 classes this semester, it brought me joy and allowed me to share my love of kpop with no shame. I tried my best to be as active as possible and hope I am able to receive a good grade.
There were a variety of assignments I posted in this class but some in particular were definitely my personal favorites!!!
I really enjoyed making memes because it was something I had never tried doing, and I really enjoyed how somehow my meme is related to two bands I love!https://wp.me/p7rH6k-6Lq
Another one of my favorite assigments was creating the GIF portrait, It's so interesting how one can take one image and make it look so cool in various different ways! it definitely sparked my creativity https://wp.me/p7rH6k-6WJ 
My third favorite post was the vaporwave assigment, It was very challenging since a lot of steps had to be done, but it was also extremely interesting and fun. https://wp.me/p7rH6k-7fv 
Overall, this was a really amazing class that I dont regret taking, learning how to manage photoshop will be something I will definitely use in the future. I also know for sure I will using the panorama setting on my camera for future dance pictures. I am not so sure If I will continue my website since I am still having a hard time on what ideas to come up with for content. I am also afraid to get some sort of copyright regarding music since my website ia about dance.  All in all, having this class was the highlight of my semester.
THANKS FOR EVERYTHING PROFESSOR RYAN!!