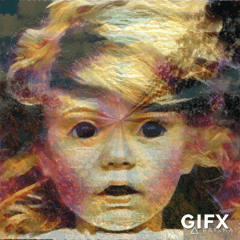 I played around with a couple apps from Color Pop, Prisma, ImgPlay
and GifX in the app store. Most are photo editors and others are like gif creators.
I created the Gif using the photo editing apps Prisma, GifX  and use IMGplay to make it a Gif to get this outcome. I had a lot of fun creating these and had some great feedback. GifX is like a video layer which created the motion in the gif of the girl in a field . It felt like a dream sequence and this is why I chose it. I played with the filters in Prisma to create the first  I like the aesthetic of it. The first photo filter is called Paper Ar.
I chose both themes based off me watching The Twilight Zone and I wanted it to be a bit "off" or maybe creepy as my mom says. What's creepier than a porcelain doll ? Through tedious work I finally uploaded my Gif ! I had to upload it to Giphy.com and paste the link into the post and Look my creation !
The last picture is the original photo!