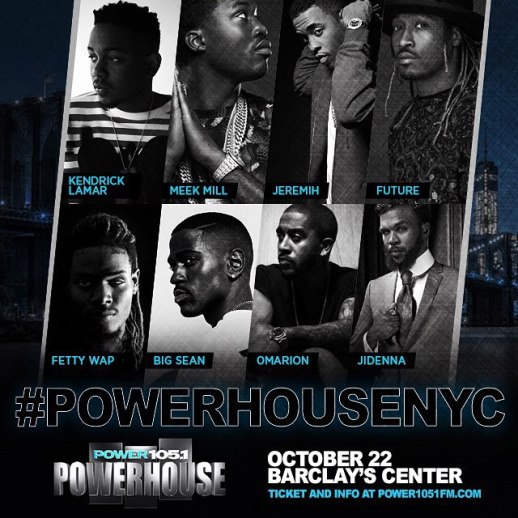 One of the years most highly anticipated hip-hop shows occurred at the Barclay Center on Thursday October 22nd. New York's Hip-hop and R&B station Power 105.1's "Powerhouse" had fans excited over the huge line up consisting of todays biggest names in hip-hop and R&B.
DJ Suss One warmed the crowd up with a medley of old school and new school tracks. Suss put on French Montana's "Pop That" and urged all the ladies with a job and career who "don't need a man to support them to make some noise." After, having the crowd feel as if they were in a club the show had finally started at 7pm.
The show opened up with Nigerian-American artist Jidenna. Jidenna is a new artist signed with Janelle Monae's Wonderland Records label. After performing one of his songs, Jidenna pulled out a flask from his cane and began to speak about the death of Corey Jones.
"Corey  was shot by the cops as he waited for his car to get fixed on the side of the highway," Jidenna says "So today I drink in honor of him. We have to do better for our country and if were going to fight this fight, the truth is whatever you do,keep your gloves dirty and your hands clean."
Jidenna had then began singing his mega hit "Classic Man" and continued to perform two upcoming singles. With two hits under his belt(One featuring Janelle Monae) Jidenna had the shortest set out of the other headliners
B2K's former lead singer Omarion was the second act of the night. Currently the star of VH1's Love and Hiphop Hollywood, Omarion was the only reality star amongst the other headliners.
"Is there any real Omarion fans in the crowd?" said Omarion "You might not remember me but maybe this will help."
Omarion then began to perform old hits like "Hold You Down" and "Bump, Bump, Bump" to jog the crowds memory. After the nostalgia Omarion performed his mega hit "Post to Be" and his current hit song "I'm Up."
The third act of the night was Jeremih the self claimed new prince of R&B. After performing his breakout hit "Birthday Sex" and performing his verse on 50 Cent's "Down On Me" Jeremih began singing his verse from Natalie La Rose's "Somebody". It was during the middle of the song that Jeremiah brought Natalie La Rose herself on stage and the two performed the duet. Jeremih finished off the song by thanking La Rose who flew out from Miami  to perform with him. Jeremih finished his set with another surprise performance from Bed-stuy artist 2 Milly and fans went bezerk as Hip-Hop's summer dance craze "Milly Rock" began to play.
The fourth headliner to take the Powerhouse stage was Philadelphia rapper Meek Mill. Mill's act was the longest out of the other seven headliners. Meek performed his breakout single "House Party" to hype up fans.  Meek shocked the crowd by bringing out Maybach Music founder Rick Ross. Ross walked on stage and announced an upcoming album with a December release date as well as perform a few of his older hits. After, Ross' performance Meek gave a shout out to Bobby Shmurda who is currently still in prison. He then proceeded to perform his freestyle over Shmurda's "Computers". As Meek began to perform his radio hit "All Eyes on You" he stopped the song before Nicki Minaj's verse to announce that she would not be performing because she was apparently running late. As Meek continued to perform Nicki surprises him on stage but didn't perform any of her songs. She instead went back stage to support him and even danced with him when he would go backstage. To finish his set Meek Mill had yet another surprise for the crowd. DJ Khaled arrived on stage to perform "All I Do Is Win" with Rick Ross.
"Who You Know Got More Hits Than DJ Khaled?" Khaled says "Shoutout to Power 105 For Bringing Me Out Here to Brooklyn." Khaled ended the set by announcing his upcoming album "I Changed A Lot" becoming available to purchase at midnight.
New Jersey rapper Fetty Wap was the fifth headliner to emerge on the Powerhouse stage sitting upon a golden throne. After just being hospitalized late September after a motorcycle accident, Fetty Wap still put on a performance consisting of his recent radio hits. A motorcycle injury wasn't going to slow Fetty down as he brought out rapper French Montana. French performed some of his hits  before announcing a collaboration project with Fetty Wap. Fans had already speculated a Fetty Wap and French Montana mixtape was on the horizion after the release of Drake and Futures collaboration mixtape "What A Time To Be Alive."
With his third studio album Dark Sky Paradise still receiving positive reviews, GOOD Music artist Big Sean was the sixth headliner to grace the stage. With imagery of clouds and storms it seemed that Big Sean's set had influences of his mentor Kanye West. Sean even performed a few songs that featured his mentor but kept cutting the music to perform more songs within his time frame. Fans were eager for Sean to bring out Kanye West but it seemed like the performance was going to be a solo one.
With his DS2 album recently becoming the number one album on Billboards top 200 list and his collaboration mixtape with Drake slowly climbing that same list, Atlanta rapper Future was the seventh artist to take the stage. Opening with "Big Rings" and "Jumpman" both featuring Drake, Future was able to hold his own without the help of his Toronto comrade. Future had then performed some single off his DS2 album like the current radio hit "Thought It Was A Drought".
Kendrick Lamar closed the show which had apparently gone over its time frame. With no clear setlist Kendrick kept asking his DJ to play random songs from his previous album "Good Kid M.A.A.D. City" as well as his current album "To Pimp A Butterfly."
"They gonna have to cut the mic" Lamar says "Brooklyn they gonna have to kick me off the stage." Kendrick performed singles like "Swimming Pools" and "King Kunta" before finally closing the Powerhouse concert.
"This was honestly the best Hip-Hop concert I've ever been to and I gained a lot of respect for some of the artist I didn't know about" says Queens College student Karim Gomez.