This past week, there was a huge controversy going on in Texas (now a worldwide story) about a Muslim kid named Ahmed Mohamed, who generally created his own clock, but got arrested for it. This particular story stood out to not only me, but many of my Facebook friends as well. The most disturbing part about this case was not the fact that he got arrested because his teacher thought this was a "hoax bomb", but it was the fact that kid's now a days can't share their creative intelligence with the world without being judged by it. With the fact that this kid was also Muslim becomes another whole topic about #racism and just #ignorance that some people acquire.
On the brighter side…all the charges against Ahmed have been dropped; now he is using this terrifying experience as an opportunity to reach out to other kid's around the world that are quite possibly going through the same thing as he went through.
Speaking of opportunities, a couple of important people kindly reached out to Ahmed via social media, telling him to come visit various places: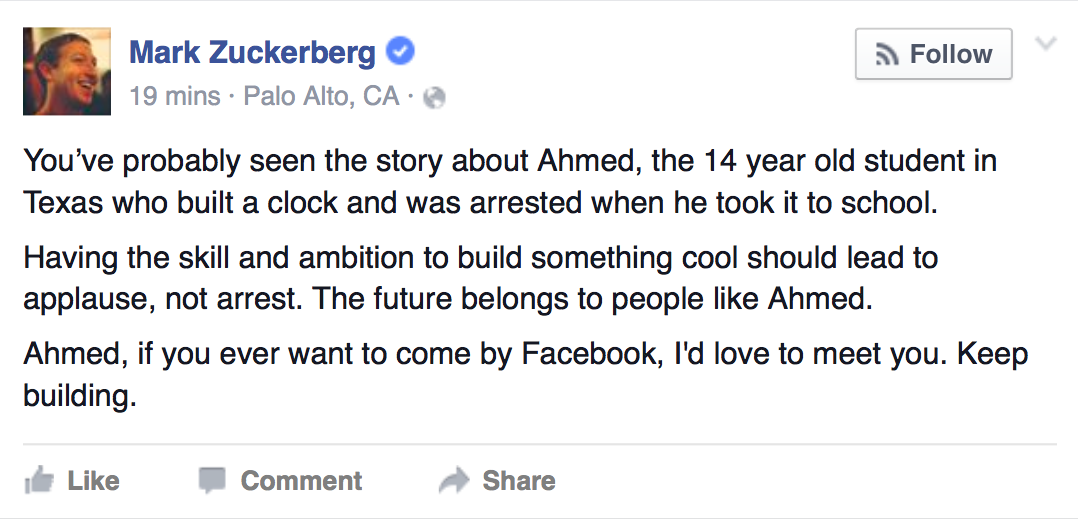 All in all, racism is NOT acceptable, no matter who you are or what you're skin color is…that shouldn't define your actions or define what you live by. The choices of one person in your race doesn't define the whole race in general. People really need to open up their minds and see outside the box.
#IStandWithAhmed